Commercial Cleaning Service in Asheboro, NC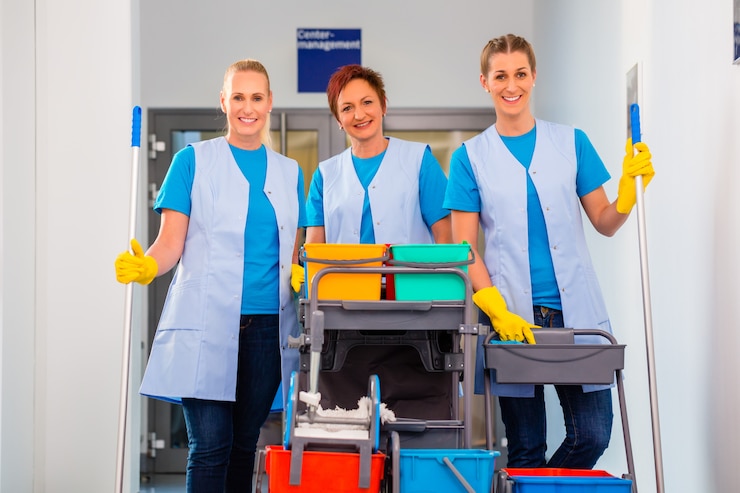 Count On Our Commercial Professional Cleaners
Are you looking for a commercial cleaning service in Asheboro, NC & Greensboro NC, North Carolina area? If so, then you have come to the right place. With long years of experience, 7S Service has been providing professional commercial cleaning services.
Nowadays cleaning services are often essential for every organization. In the current situation, every room, passageway, and courtyard used by the establishment needs to be cleaned and maintained. Our cleaning services will help in maintaining proper cleanliness in every area of ​​your establishment. Also, it will help in maintaining an ideal hygienic environment for the employees of your establishment. Our services are essential for all types of organizations and institutions.
Our commercial cleaning service in Asheboro NC has certain specialties that have made them popular with customers over the years Located in the North Carolina areas of Greensboro and Asheboro, Randleman, Seagrove, High Point, Stokesdale, Burlington, and Siler City, our cleaning services provide exceptional attention to detail and our professional cleaning prices are the best in North Carolina.
We value our customers and their time. 7S Services provides comprehensive quality, professional and affordable cleaning services. Our cleaning teams are always committed to giving your establishment a healthy, clean environment. Our efforts to provide quality service are always continuous.
As long as we are at your service we want you to be sure that you are getting the right service at the right price. We send a technician free of charge to review the entire situation on our behalf. We know every business is different and so are cleaning procedures. We also help you create an overall action plan that aligns with your action plan.
Our Commercial Cleaning Services in Asheboro NC  Include:
Janitorial Service

Cleaning the entrance glass and any interior glass.

The dusting of air vents and regular ceiling fan cleaning

Cleaning and sanitizing restroom fixtures.

Cleaning of kitchen fittings and appliances

cleaning Dust and dirt off furniture as needed

Kitchen cleaning  

Bathroom cleaning

Seasonal cleaning

Power washing

Window washing

Carpet Shampoo
Also, all carpets and stains are cleaned as needed. Any tiles or hard floor stains are removed.
There are many types of cleaning services available these days. The most popular types of cleaning services are
Glass Cleaning: Glass cleaning is one of the popular cleaning services of commercial cleaning companies. Commercial glass cleaning is important to maintain the luster of the glass surface. A glass specialist can clean glass surfaces in less time and at less cost.
Cleaning windows: Window cleaning is very important for building safety. An experienced cleaner can clean the dust without any damage to your windows.
Carpet Cleaning: Carpet cleaning is one of the most common cleaning services in offices, homes, and other commercial areas. Unclean carpets are a source of allergens that can cause various diseases like asthma, bronchitis, and other respiratory problems. Carpet cleaning is also very important as it holds a lot of dust and dirt.
Interior cleaning: The most commonly used cleaning service is interior cleaning. It is used for all commercial places like offices, restaurants, and hotels.
Exterior cleaning: Exterior cleaning is the most affordable form of cleaning service. Exterior cleaning includes exterior door washing, window cleaning, yard cleaning, etc.
Our 7S Service has long experience with success Working in North Carolina at Asheboro, Greensboro, Randleman, Seagrove, Hih point, Stokesdale, Burlington, and Siler City. If you are a resident of this area then leave your commercial cleaning work to our experienced staff without any worries.